Distances: 106km, 32km
Entry fee
106km: R380 road + R50 CSA day license
32km: R250 + R50 day license
Entries are limited in compliance with current COVID legislation.
Start Time Per Batch:
$: 06:00
&: 06:00
VA: 06:05
VB: 06:10
VC: 06:15
%: 06:20
TL: 06:30
AL: 06:35
BL: 06:40
CL: 06:45
EB: 06:50
*: 07:50
AS: 07:53
TS: 07:53
Leaving Bekker School riders will turn left onto the R96 towards Johannesburg.
After approx 8km of undulating roads the race will turn right onto the R563 where the infamous Hekpoort pass
awaits.
The route will tilt upward after 12km of riding when riders will start the proper climb.
Hekpoort Climb is a category 3 climb and approx 4.5km long at 4.8%. Internationally acclaimed riders Chris Froome and Ashleigh Moolman Pascio hold the Strava records up this climb.
After the climb it's left at 19km (R400) where riders will then pass the satellite station on the left, where it all started 17 years ago. This section is really fun and fast until riders turn left at Broederstroom 18km later (47km into the race). Look out for Hot air Balloons in this area, should
we be blessed with a cool morning.
A small bump will expose the beautiful sight of Pecanwood Golf Estate, Hartbeespoort Dam and the Magaliesberg Mountains in the background. Riders will
turn right and cross the dam after 55km of racing and turn left towards Hekpoort at the foot of the mountains (R560).
From here it's relatively flat as you start the second half towards Hekpoort. Keep something in the tank as this stretch of road might ask more of you then you
might think.
Turn left only 40km later where you join the R24 (Rustenberg road). After only 3km on the R24 riders will turn left onto the R95 again before finishing in front of the School 106km later.
The finish is somewhat technical so please familiarise yourselves with this section to
ensure a safe sprint finish.
Riders will leave the School after the main race left towards Krugersdorp and the climb of the day.
The 32km route however will turn left after 8km towards Hekpoort town. It's fast and slightly downhill until riders turn left onto the R560. Look out for the riders on the long route that will join you approx 85km into their race.
From here it is flat for another 10km after which riders will turn left onto the R24 and follow the same path home towards Bekker School.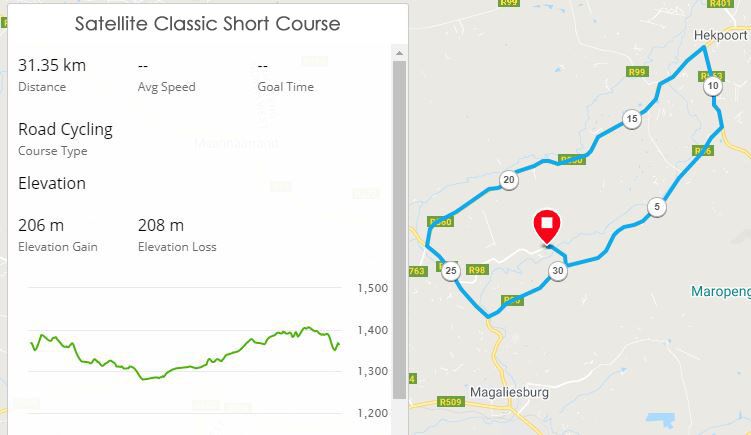 A total prize purse of over R30,000 can be won. Note the prize category breakdown below.
** There must be at least three participants in a category to award 1st prize. A minimum of 5 participants in a category will be required to award 1st – 3rd prize.
** Cyclists must be licenced to be eligible for prizes in the racing categories.
106km Elite & U/23 Men :
106km Elite Women:
1st
R3 500
R3 500
2nd
R2 500
R2 500
3rd
R1 000
R1 000
4th
R800
R800
5th
R500
R500
106km Hotspot Elite & U/23 Men:
106km Hotspot Elite Women:
1st
R750
R750
106km KOM Elite & U/23 Men:
106km KOM Elite Women:
1st
R750
R750
106km Junior Men (U/19):
1st
R1 000
2nd
R500
3rd
R300
106km Vet Men 30+:
1st
R1 500
2nd
R1 000
3rd
R500
106km Hotspot Vet Men 30+:
1st
R500
106km KOM Vet Men 30+:
1st
R500
106km Vet Men 40+:
1st
R1 500
2nd
R1 000
3rd
R500
106km Hotspot Vet Men 40+:
1st
R500
106km KOM Vet Men 40+:
1st
R500
106km Vet Men 50+:
1st
R1 500
2nd
R1 000
3rd
R500
106km Hotspot Vet Men 50+:
1st
R500
106km KOM Vet Men 50+:
1st
R500
106km Tandem Men:
106km Tandem Women:
1st
R750 x 2
R750 x 2
2nd
R400 x 2
R400 x 2
3rd
R250 x 2
R250 x 2
106km Tandem Mixed:
1st
R750 x 2
2nd
R400 x 2
3rd
R250 x 2
32km Open Men:
32km Open Women:
1st
R250
R250
2nd
R150
R150
3rd
R100
R100
32km Junior Girls (U/19) :
1st
Prize Hamper
2nd
Prize Hamper
3rd
Prize Hamper
2nd Year Junior Girls may ride with the 106km Elite Ladies on request (contact CSA)
32km U/17 Boys:
32km U/17 Girls :
1st
Prize Hamper
Prize Hamper
2nd
Prize Hamper
Prize Hamper
3rd
Prize Hamper
Prize Hamper
32km U/15 Boys :
1st
Prize Hamper
2nd
Prize Hamper
3rd
Prize Hamper